Parents and community send literacy petition to SFUSD Superintendent and Board of Education
On October 21, 2022, SF Parent Coalition hand-delivered to SFUSD's Central Office the following literacy petition, signed by 250+ parents, teachers, and supporters, calling on the district to urgently commit to providing high-quality, research-based early literacy instruction to our students. Following the petition's delivery, parents and community members filled out and mailed handwritten postcards to the Board and Superintendent at an in-person film screening of the documentary 'The Right to Read,' co-hosted with community partners SF Education Fund and Decoding Dyslexia CA at the SF Public Library.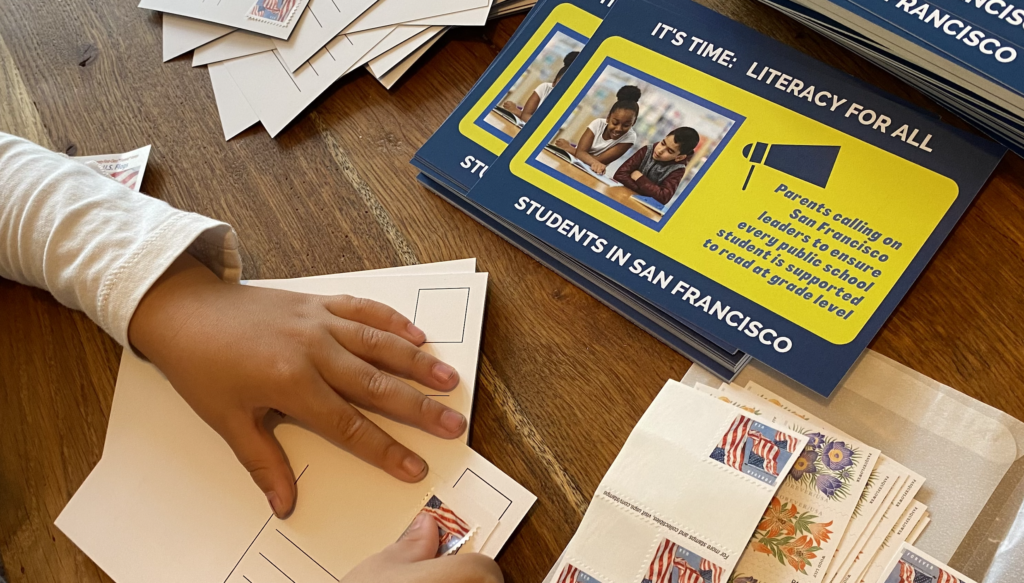 October 21, 2022
Dear SFUSD Superintendent Dr. Wayne and Board of Education Commissioners,
San Francisco community groups, parents, students, educators, and leaders call for a citywide commitment to improve literacy, especially for marginalized populations.
Years of evidence from student outcome data clearly show that San Francisco Unified School District (SFUSD) students are not reading and writing at grade level. Our public school system is failing at its basic promise to create literate citizens. We have extreme gaps in literacy outcomes for English Language Arts (ELA). In 2019, only 21% of SFUSD's Black students, 18% of SFUSD's English learners, and 17% of SFUSD's students with disabilities met state literacy standards. (Source: CAASPP/State assessment data)
SFUSD is undergoing an expert-led TNTP curriculum audit that is shedding light on the gaps in our literacy materials and instruction, but parents and community need the District and School Board to take swift and decisive action to implement the changes recommended by the audit:
Commit to an explicit vision: to deliver research-based literacy instruction across all schools and classrooms
Invest in high quality instructional materials: proven to work with all students
Take urgent action: to avoid further literacy loss 
We urge SFUSD to make high quality reading and writing instruction a top priority. Its 50,000 students deserve an equal opportunity for literacy.
Signed,
SFUSD Parents, Educators, Students, and Supporters:
Kristy Adams
Syed Ahmad
Daphne Alden
Maria Altamirano
Allen Arieff
Anne Arnhym Yanito
Amy Beck
Emily Beckman
Lynne Beeson
Angela Bennett
Dana Beuschel
Nilesh Bhandari
Chanel Blackwell
Kate Blumberg
Barbara Bodager
Adam Borelli
Virginia Boster
Sarah bourne
Dan Bowermaster
Seth Brenzel
Abby Bridge
Martha Brooder
Shaelene Brown
Autumn Brown Garibay
EG Brubaker
Wesley Brubaker
Sheila Brunsell
Nancy Bui
Ashley Burciaga
Cindy Burg
Beth Burkhart
Spencer Burns
Lorena Campozano
Kelly Carámbula
Tina Carney
Jason Cauthen
Lian Chang
Carolyn Chatham
Christa Christa
Emilie Chu
Annie Chung
Jitka Citron
Amanda Clarke
Scot Conner
Zoe Corbyn
Christine Cordaro
Evan Coughenour
Tony Crisera
Joseph Custodio
Emila Damjanovuc
Adam Davis
Chelsea de Goede
Justine Della Fave
Joseph DiMento
Stephen Dodson
Meredith Dodson
SIOBHAN DOLAN
Leah Dorazio
Marisa Downs
Fennel Doyle
Naty Duenas
Denise Dunning
Alan Dunton
Lisa Edsall Giglio
Yvette Edwards
Glenn Edwards
Tina Engberg
Stephanie Falkenstein
Rebecca Fedorko
Peter Fish
Allegra Fisher
JAIME-ALEXIS FOWLER
Jessica Franklin
Amanda Fried
Kendra Frost
Kira G
Andrea Garfield
Max Garrone
Jayson Gatdula
Nathan Gheen
Ronit Glickman
Sue Gonzalez
Lori Gray
Sarah Green
kimberly green
Anthony Greene
Marissa Guerrero
Sonia Gulati
Sara Hall
Amanda Hamilton
Susan Hamilton
Jessi Harrison
Chloe Hartman
Burcu Hasdemir
Courtney Helland
Kyle Helland
Alison Henry
Mareike Herriger
Jennie Herriot-Hatfield
John Hinman
Kit Hodge
Samantha Hogg
Fabienne Hollinger
Harsha Hooli
Sarah Howard
Dawn Isaacs
Madhavi Jagdish
Carrie Johnson
Emily Johnston
Meg Kammerud
Gerald Kanapathy
Ana Kapor
Klingensmith
Katherine Kimi
Kean H. Kelly
Jeffrey Kessler
Rachel Keuler
Daniela Kleiman
Angela Kleine
Amelia Knieper
Kimberly Knowles
Melissa Koenigsberg
Subir Kumedan
Staci Lambright
Megan Lane
Kate Lazarus
Peter Lee
Laurance Lee
Larry Lee
Kimberly Lee
Orlando Leon
Leslie Leslie
Woodward Abbey
Levantini
isabella levaux
Rachel Levy
Xiao Yan Li
Autumn Looijen
Beth Lovett
Jacob Loya
Debby Lu
Beth Lucey
Beryl Ma
Thomas Maffai
Jinan Mahmoud
Salina Marley
Jennifer Marshall
Emily Matthews
William McCarthy
Paul McLean
Steven Merrill
Molly Mitchell
Leyla Momeny
Caroline Monroe
Sarah Montoya
Todd Moore
Gale Morrison
Michelle Mourad
Rebecca MurrayMetzger
Tomio Nagano
Hope Neighbor
Lila Nelson
Julia Nemchuk
Lindsay Nofelt
Niklas Nordlund
Brittny O'Connor
Sandra Ospina
Nelli Oster
Jennie Ottinger
Robin Pam
Christina Pappas
Tarja Parssinen
Melissa Partin
Emmanuelle Pease
Tarrah Pollaro
Megan Potente
Alex Potente
Gianluca Potente
Natalia Potente
Terrry Potente
EJ Potente
brenna powell
Amanda Powell
Kalpana Ramakrishnan
Nicholas Reavill
Niki Revolt
Rex Ridgeway
Susannah Riebli
Allyson Ritger
Jacynth Roberts
Melanie Roberts
Emily Rodda
Glamis Rory
Bianca Rowden Quince
Kate Rusche
Viviane Safrin
Jennifer Sam
Ibone Santiago
Trojaola
Kimberly Sarquis
Jamie Schechter
Erica Schultz
Thea Selby
Glenda Sell
Christina Share
Kathleen Shepherd
Fion Shih
Lori Silk
Veena Singh
Rhea St. Julien
Jennifer Stanley
Katrina Steffek
Tyler Sterkel
Sarah Stettler
Laura Stonehill
Andrew Strickman
Emily Suddath
Eiko Sugano
Mary Szczepanik
Jessica Tashjian
Lila Tavelli
Brenda Taylor
Jane Theodore
Tasha Tormey
Marie Torre
Marlene Tran
Jesse turner
Yesenia Umana
Rebecca Walsh
Cynthia Wang
Christine Wang
Morris
Tim Weidner
Devon Weidner
jennifer white
Samantha Grant Wiesler
Celia Wiley
Ron Willa
Melissa Willa
Laura Wolfram
Julie Wong
Mabel Wong
Susan Wong
Alex Wong
Anne Woodward
Teresa Wu
Rebecca Wyte
Diane Yap
Clifford Yee
Rahul Young
Daniel Zaheer
Cynthia Zuniga
Marnie Adore