Founded in the summer of 2020, SF Parents is a collective of 5,000+ San Francisco public school parents, students, teachers, and community supporters.
We center the needs of children and youth in San Francisco public schools by bringing together a diverse network of parents and caregivers to advocate for a thriving, equitable school system.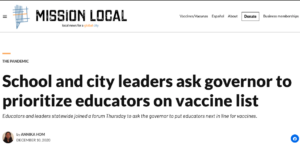 Public school teachers have a lesson plan for the governor: Make educators a priority.  On Thursday, Supervisor Hillary Ronen joined California leaders across the state to urge Gov. Gavin Newsom to put teachers and all school personnel toward the front of the line to receive the Covid-19 vaccine. Read more here.