Founded in the summer of 2020, SF Parents (formerly Decreasing the Distance) is a collective of 5,000+ San Francisco public school parents, students, teachers, and community supporters.
We center the needs of children and youth in San Francisco public schools by bringing together a diverse network of parents and caregivers to advocate for a thriving, equitable school system.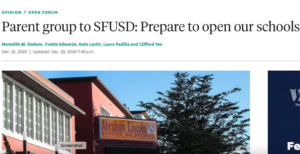 By Meredith W. Dodson, Yvette Edwards, Kate Levitt, Laura Padilla and Clifford Yee We published an Op-Ed in the San Francisco Examiner. Read the full piece here.