Literacy audit finds SFUSD in critical need for improvement in curriculum and instruction
May 2022
The moment we have been waiting for! The much anticipated initial findings of SFUSD's K-5 Literacy Program Audit have been released and will be presented at the May 9th Curriculum Committee Meeting. [You can find the presentation here].
In fall 2021, SFUSD partnered with TNTP, a well-regarded national education nonprofit, to conduct a comprehensive audit of the district's K-5 ELA curriculum for the purpose of determining to what extent all K-5 students in SFUSD have equitable access to high-quality learning experiences in literacy.
The audit looked at the district's written curriculum (what they say they are doing) and the district's taught curriculum (the instruction that was observed in classrooms). It involved analysis of K-5 ELA curricular materials (e.g., lesson plans) and time inside 90 classrooms observing instruction, looking at student work, and talking with teachers.
While the audit found some areas of strength (for example, the texts SFUSD recommends are often high-quality, sufficiently complex for each grade level, and promote diversity, equity, and inclusion), the findings also show there is critical need for improvement in both curriculum and instruction. 
Here are a few of the curriculum audit's key findings:
The written curriculum does not provide sufficient opportunities for evidence-based discussion and writing, a critical part of the California State Standards  
The written curriculum does not systematically build knowledge, a critical factor in building students' reading comprehension abilities
The written curriculum does not provide sufficient teacher guidance to support effective instruction in reading foundational skills (e.g., phonics)

 

Very few observed classrooms provided sufficient opportunities for students to practice reading foundational skills
Very few observed classrooms provided students opportunities for "doing the thinking," an important research-based instructional strategy 
And, as for the instruction happening inside of classrooms, this graph from TNTP's audit sums it up:

The audit also included three initial recommendations to address these challenges, based on what has worked in districts across the country:
Develop a research-based vision for excellent literacy instruction

, a process that should include engaging stakeholders (like parents!)

Pilot high-quality literacy curriculum

, with the goal of implementing new curriculum across the district in grades K-5 in the 2024-25 school year

Build the understanding and investment of SFUSD teachers and leaders

in the new vision for excellent literacy instruction, so they can successfully leverage the new curriculum to make the district's vision a reality and ultimately improve student outcomes
What can parents do? 
Attend

the May 9th BOE Curriculum Committee

Meeting

to learn more

Stay informed

via SFParents' newsletter updates on literacy at SFUSD (TNTP's audit will have additional findings and recommendations)

Call on SFUSD's new superintendent

, when hired, to heed the audit's findings and take decisive action to address these issues.
Summary produced by parent volunteers of SF Parent Coalition.
What's the latest with SFUSD's budget deficit?
April 2022
"District Fiscal Solvency Risk Level: High"
The California Fiscal Crisis & Management Assistance Team (FCMAT), after working with SFUSD for many months, recently published an updated assessment of SFUSD's fiscal health. FCMAT has declared SFUSD's solvency risk as "HIGH." Here is a plain English translation of their Executive Summary:
SFUSD is at risk of being declared insolvent (and being taken over) by the state because:

SFUSD does a bad job of budgeting, and
SFUSD has almost no "rainy day" cash reserves in the bank

The California state superintendent of public instruction has been warning SFUSD about its fiscal problems since 2019, but SFUSD (under the previous Board of Education) ignored the warnings until the state declared SFUSD "no longer a going concern" and stepped in.
The biggest immediate concern is that SFUSD does not update its budget during the year to align its forecasts with actuals

. Because SFUSD does not update its budget during the year, it can't understand why its budgets don't turn out as expected, it doesn't track how it spends its money, and it only realizes too late how little cash it has left in the bank.

SFUSD also has problems with how it develops its budgets

, and how it

manages its cash

.

Developing its budget:

SFUSD only *estimates* its employee costs; it does not use *actual* employee costs in building its budget and deciding how to allocate employees per school site. This leads to problematic budget imbalances.

Managing cash: SFUSD only forecasts its cash needs for the current year, rather than following best practices and looking at least one year ahead. This leads to cash shortages which in turn leads to borrowing more money than it should.

SFUSD's compensation costs take up a larger share of its budget than average, driven largely by its post-employment benefits. SFUSD has a problematic practice of approving compensation increases before identifying and securing the funding to pay for those increases.
SFUSD is using one-time funds to pay for its high expenses, rather than making the hard choices necessary to make the required structural changes and saving up the one-time funds to build up cash reserves.
It the Board of Education's job to make responsible budget decisions. It is SFUSD management's job to provide the data the Board needs to make and approve those budget decisions.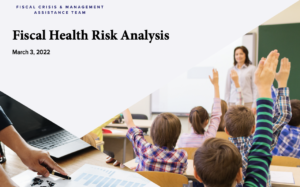 Produced by Families for San Francisco and SF Parent Coalition, local organizations committed to helping our public schools and students thrive and succeed.


School closures were harmful
September 2021
In May 2021, SF Parents (then Decreasing the Distance) released a report detailing how school closures harmed San Francisco students: "A Year of Harm and Counting: San Francsico's Ongoing Public School Failure." 
Since that time, several national studies have been released that sadly reinforce the harms we saw locally.
The pandemic is

widening educational inequality

and learning gaps created by the crisis will persist as students progress through high school, putting their future prospects at risk.
The

impact of the pandemic on K–12 student learning was significant

, leaving students on average five months behind in mathematics and four months behind in reading by the end of the school year. The pandemic widened preexisting opportunity and achievement gaps, hitting historically disadvantaged students hardest. 
An

overall decline in average test scores between 2020 and 2021

. School districts with less in-person instruction exhibit steeper declines.

Math and reading passing rates were lowest in poor areas and that going from fully virtual to fully in person counteracted the low math passing rates by 10 percentage points.
One million students expected to be in school didn't show up in person or online at all, with the largest declines in the youngest learners and in families living below the federal poverty line.
Citing mounting evidence of ongoing harm, U.S. Surgeon General Vivek H. Murthy issued a public health advisory on the mental health challenges confronting youth, a rare warning and call to action to address what he called an emerging crisis exacerbated by pandemic hardships.
Symptoms of depression and anxiety have doubled during the pandemic, with 25% of youth experiencing depressive symptoms and 20% experiencing anxiety symptoms. 

In early 2021, emergency department visits in the United States for suspected suicide attempts were 51% higher for adolescent girls and 4% higher for adolescent boys compared to the same time period in early 2019, according to research.